News & Events
The Feast St Anne, Ponda Goa
29 July 2018, Ponda: St Anne's Church in Ponda has been standing tall since the mid 19th century, providing devotees a place to venerate the grandmother of Jesus Christ. This church, along with three other churches in Goa, is now solely dedicated to St Anne, the mother of Mary and grandmother of Jesus. Originally, this church in Ponda, that was established in 1700, was dedicated to St Anne and St. Anthony. The Jesuit missionaries administered to the spiritual and pastoral needs of the people in early seventeenth century. The existing church was built much later. The church baptism records show that the baptism registration officially started in 1860, under then Parish Priest Fr Minguel Jose Leandro Ferrira. The documents, all in Portuguese, are still preserved in the church archives. In the course of the years, this church was entrusted to the pastoral care of the Franciscans: Order of Friars Minor (OFM) in 1957. (Courtesy: https://www.heraldgoa.in/Cafe/UNDER-THE-SHADOW-OF-GRACE/118240.html)

Religious celebration is a beautiful aspect of Goan life because here, the feasts and festivals of one community are celebrated by other communities as well, bringing together people in the purest of ways. The Feast this year was celebrated on 29th July. The festive celebration was presided over by Rev. Fr. Patricio Fernandes, SJ, Rector of the "Basilica of Bom Jesus" who preached a wonderful sermon referring often to the inspiring words of Pope Francis on family. The Eucharist was concelebrated by Br Carlos Dias, Regional Superior Custos of Northeren Region and his team of councillors, Br Praveen Henry D Souza, the Minister Provincial and his team of Definitors, Br. Tony D Souza, the Parish Priest and his team and a number of friars from various places.

The Church was packed to its full capacity and the liturgy was enlivened with sonorous singing. There was a prayerful procession soon after the Eucharist attended by many faithful. People then flocked to venerate the statue of Mother St. Ann. In the evening, there was a football match in honour of the feast.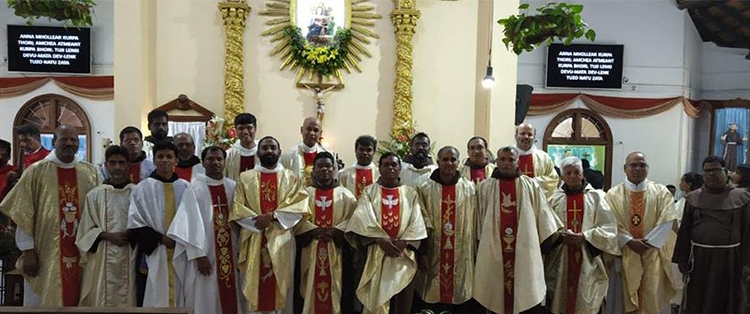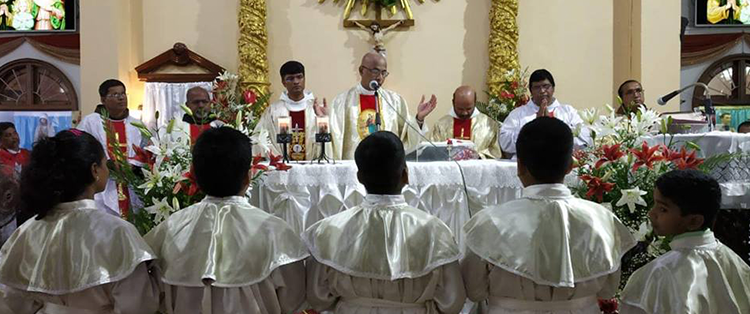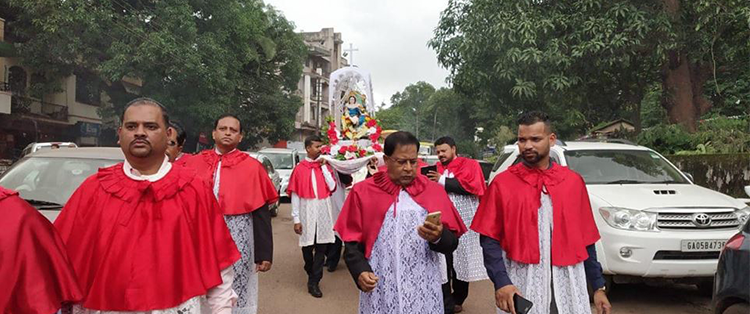 ST. FRANCIS OF ASSISI
ST. FRANCIS
FRIARS' BIRTHDAY (June)
Date

Name of the Friars

Events

Year

01

Jose Palimattom

Vincent Soosai

Fabianus Toppo

Bryan Carneiro

Bhaskar Reddy

Michael Anand

Solemn Vows

Solemn Vows

Entry

Solemn Vows

Solemn Vows Solemn Vows

1996

1996

1999

2002

2002

2002

02

Leos Ekka

Vinoth Robin

+ Denis Boers

Basil Tirkey

Vinod Kujur

Francis Arokiasamy M.

Thumma Ranjith Kumar Reddy

Birth

Birth

Home

Solemn Vows

Solemn Vows

Solemn Vows

Solemn Vows

1963

1985

1997

2013

2013

2013

2013

03

Fabianus Toppo

+ Theodore Caine

Ankit Kumar Baghel

Birth

Home

Birth

1978

1986

1996

04

Dharmodaya Ashram - Bellary

Foundation

1995

06

Alphonse Moras

Birth

1950

07

Sleeva Reddy

Tojy M.

Solemn Vows

Solemn Vows

1998

1998

08

Joy Valooran

Dominic C.J.

Balthazar Pinto

Bala Marneni

Tony D' Souza

Birth

Solemn Vows

Solemn Vows Solemn Vows Solemn Vows

1970

1987

1987

1987

1987

09

Anthony Joseph Archer

Birth

1992

10

Arokia Raj R.

Solemn Vows

1989

11

Jesu Raja A.

Birth

1985

12

Pratap Reddy Salibindla

Balthazar Pinto

Bala Marneni

Tony D'Souza

Arokia Raj R.

Arulsamy A.

Thomas Joseph

Bobby V.T.

Johnny Anthony

Charles Bernard

Felix Gassam

Athanasius Xaxa

Paul Kallan

Leos Ekka

John Chrysostom

Salim Joseph

Francis Kaviyil

Babu Jose Pamplany

James N.

Chinnappan M. Devaraj

Amaldas Belevendran

Entry

Entry

Entry

Entry

Entry

Entry

Entry

Entry

Entry

Entry

Entry

Entry

Entry

Entry

Entry

Entry

Entry

Entry

Entry

Entry

Entry

1981

1981

1981

1981

1982

1982

1982

1982

1983

1984

1984

1985

1985

1985

1985

1985

1985

1985

1985

1985

1986

13

+ Anthony of Padua

Samson A.

Basen Friary

Nanasera Friary

New Church at Sion

Bannur Friary

Feast

Birth

Foundation

Foundation

Blessing

Foundation




1955

1982

1992

1995

1999

14

Francis Arokiasamy M.

Birth

1987

16

Adarsh Y.

Birth

1994

18

Michael Anand

Ordination

2005

19

Dayanand

Dharma L. Bernard

Birth

Birth

1950

1953

20

Tony Marshall

+ Alphaeus Swinkels

Birth

Home

1978

1980

21

Jamesmon P.C.

Birth

1970

22

Arulsamy A.

Arun Junes

Birth

Birth

1961

1978

25

Thomas M.M.

Birth

1949

26

Niraj Kumar Tirkey

Birth

1993

27

Naveen George

Birth

1982

28

Samson

Tommy T.J.

Dominic C.J.

Carlos Dias

Manoj Xalxo

Entry

Entry

Entry

Entry

Birth

1980

1980

1980

1980

1982

30

Amaldas Belevendran

+ Leo Remedios

Birth

Home

1967

1970