News & Events
PRIESTLY ORDINATION OF BROTHER GOPU RAJASEKHAR
The Priestly Ordination of Brother Gopu Rajasekhar was held on 27th December 2018, at his own home-parish, Church of St. Paul the Hermit, Tubadu, Andhra Pradesh. The celebration was presided by Rt. Rev. Dr. Chinnabathini Bhagyaiah, Bishop of Guntur. The two main Concelebrants were our Provincial Minister and the Provincial Superior of MSFS who hails from the same village of Rajasekhar. Along with the local faithful, there were many diocesan clergy and religious Sisters at the celebration. It was a delight to see our Franciscan presence through a good number of brothers from various communities.
The guest friars enjoyed the hospitality of the people of Tubadu. The people in whose house we stayed, took care of us very well providing us with all we needed for a comfortable stay. The event was well organized. The liturgy was very meaningful. The Parish Priest together with his predecessors, took minute care to see to every requirement for the ceremony of the Ordination. The whole village was involved right from the procession till the felicitation. It was typically a festival of the village! The parish priest, the religious sisters, and the people of the village worked together with the Gopu family and, thus, everyone was happy that Br. Rajasekhar was ordordained to the Order of Priesthood.
On the next day, 28th December 2018, the people and friars gathered at the house of Brother Rajasekhar. During a short prayer in the house of Br. Rajasekhar, Brother Sleeva, the Vocation facilitator of Rajasekhar, thanked God and the family for the gift of Rajasekhar. Then, the God-mother presented Rajasekhar to the Minister Provincial saying, "Hence forth this son of ours belongs to you." This was a touching and inspiring moment for all who were present at the house. Then, Brother Rajasekhar was escorted to the Parish Church and there he presided over the Eucharistic Celebration of Praise and Thanksgiving. Brother Sleeva Reddy preached an interesting and inspiring homily. Personally, I enjoyed my stay and the Hospitality of the people as well as of the family members of Brother Rajasekhar.
Praised be You, my Lord, for our Brother Rajasekhar who has gifted his whole self for the growth of Your Kingdom in our world! May God bless you, dear Br. Rajasekhar, and may you have a meaningful and spiritual ministry in the vineyard of the Lord!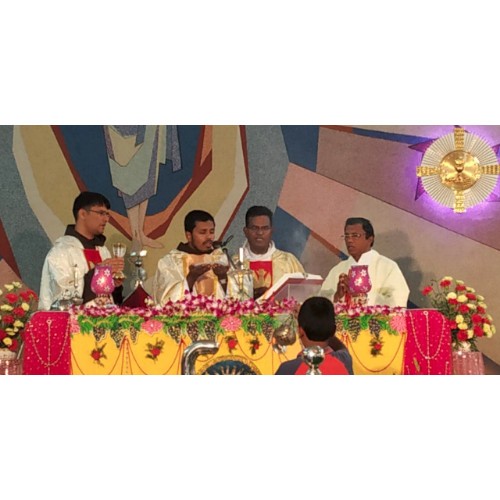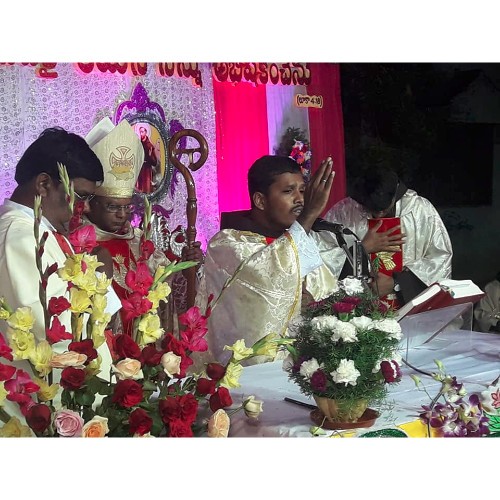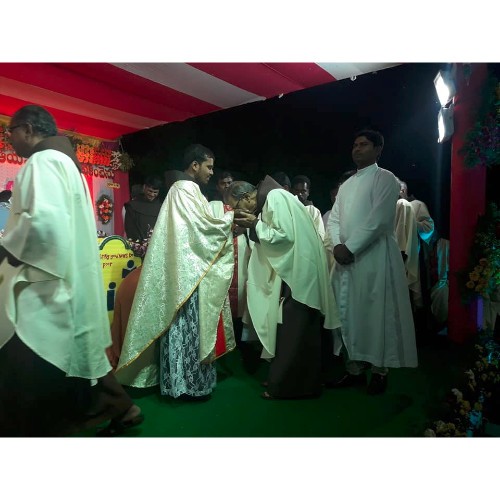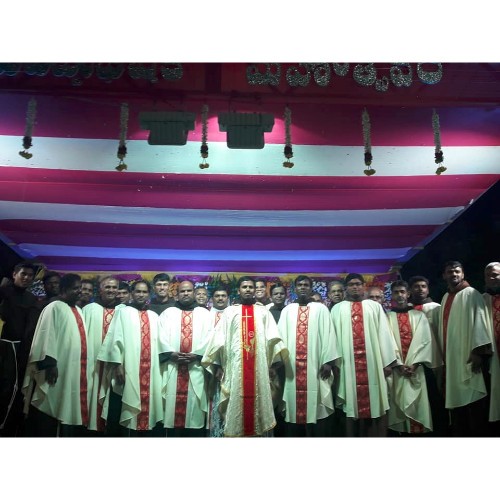 ST. FRANCIS OF ASSISI
ST. FRANCIS
FRIARS' BIRTHDAY (June)
Date

Name of the Friars

Events

Year

01

Jose Palimattom

Vincent Soosai

Fabianus Toppo

Bryan Carneiro

Bhaskar Reddy

Michael Anand

Solemn Vows

Solemn Vows

Entry

Solemn Vows

Solemn Vows Solemn Vows

1996

1996

1999

2002

2002

2002

02

Leos Ekka

Vinoth Robin

+ Denis Boers

Basil Tirkey

Vinod Kujur

Francis Arokiasamy M.

Thumma Ranjith Kumar Reddy

Birth

Birth

Home

Solemn Vows

Solemn Vows

Solemn Vows

Solemn Vows

1963

1985

1997

2013

2013

2013

2013

03

Fabianus Toppo

+ Theodore Caine

Ankit Kumar Baghel

Birth

Home

Birth

1978

1986

1996

04

Dharmodaya Ashram - Bellary

Foundation

1995

06

Alphonse Moras

Birth

1950

07

Sleeva Reddy

Tojy M.

Solemn Vows

Solemn Vows

1998

1998

08

Joy Valooran

Dominic C.J.

Balthazar Pinto

Bala Marneni

Tony D' Souza

Birth

Solemn Vows

Solemn Vows Solemn Vows Solemn Vows

1970

1987

1987

1987

1987

09

Anthony Joseph Archer

Birth

1992

10

Arokia Raj R.

Solemn Vows

1989

11

Jesu Raja A.

Birth

1985

12

Pratap Reddy Salibindla

Balthazar Pinto

Bala Marneni

Tony D'Souza

Arokia Raj R.

Arulsamy A.

Thomas Joseph

Bobby V.T.

Johnny Anthony

Charles Bernard

Felix Gassam

Athanasius Xaxa

Paul Kallan

Leos Ekka

John Chrysostom

Salim Joseph

Francis Kaviyil

Babu Jose Pamplany

James N.

Chinnappan M. Devaraj

Amaldas Belevendran

Entry

Entry

Entry

Entry

Entry

Entry

Entry

Entry

Entry

Entry

Entry

Entry

Entry

Entry

Entry

Entry

Entry

Entry

Entry

Entry

Entry

1981

1981

1981

1981

1982

1982

1982

1982

1983

1984

1984

1985

1985

1985

1985

1985

1985

1985

1985

1985

1986

13

+ Anthony of Padua

Samson A.

Basen Friary

Nanasera Friary

New Church at Sion

Bannur Friary

Feast

Birth

Foundation

Foundation

Blessing

Foundation




1955

1982

1992

1995

1999

14

Francis Arokiasamy M.

Birth

1987

16

Adarsh Y.

Birth

1994

18

Michael Anand

Ordination

2005

19

Dayanand

Dharma L. Bernard

Birth

Birth

1950

1953

20

Tony Marshall

+ Alphaeus Swinkels

Birth

Home

1978

1980

21

Jamesmon P.C.

Birth

1970

22

Arulsamy A.

Arun Junes

Birth

Birth

1961

1978

25

Thomas M.M.

Birth

1949

26

Niraj Kumar Tirkey

Birth

1993

27

Naveen George

Birth

1982

28

Samson

Tommy T.J.

Dominic C.J.

Carlos Dias

Manoj Xalxo

Entry

Entry

Entry

Entry

Birth

1980

1980

1980

1980

1982

30

Amaldas Belevendran

+ Leo Remedios

Birth

Home

1967

1970