News & Events
Asian Young Friars Gathering, Manila, Philippines
Day 3: 10th February
The third day was continued in the respective parish to which we are sent. In the morning the parish priest took us around to show the activities that are being conducted for the faithful and then we concelebrated the mass with parish priest at 10.30 AM which is in English. The whole parish was well organized and systematic. I could see the various lay communion ministers who distribute communion lack of sisters in the parish. One of the challenges that parish priest pointed out to all of is that leading the people in spiritual way. The people are rich enough and so to lead them to live spiritual life is a great challenge. Though the parish is rich enough, it does a lot of social service to people around and also educates poor students around the parish. It was a great experience to be in the parish and know the functioning of it. Then after lunch we departed to our Arnold Janssen Spirituality centre and gathered in groups at 4.30 PM to share our experiences in groups to enrich ourselves. We could learn from the responses of brothers while the experiences are being shared. The day was ended with vespers followed by dinner.
Day 4: 11th February
The day began very early in the morning. We packed and moved at 5.00 AM towards Poggio Bustone Renewal Center in Beneg Village, Botolan, Zambales. It took around 6 hours or so in a van to reach this center which is taken care by friars. It is located right at sea shore of Philippian sea, beautifully planned for retreats or gatherings. As we reached we are accommodated in comfortable rooms and then proceeded first for lunch followed by siesta upto 2.30 PM. Then we had a talk on "The Challenges of Social Media" by Speaker: Fr. Louie Coronel, OP. He elaborated briefly the history and gradual development of social media and technology in this era. How the social media can be used for the evangelization effectively. He has given the tools for which we need to respond to the social media responsibly. After his presentation there were various questions posed by delegates for clarifications. Though the topic is vast, he briefed to give us challenges in three questions. Then at 6.00 PM we all gathered for Eucharist integrated with vespers and the Eucharist was celebrated by friar Andres Ranoa OFM, the moderator of Ongoing Formation in the Province of San Pedro Bautista, Philippians. In his homily he clearly brought out the Franciscan documents of the Order to explain our mission and then concentrated on fraternities in parish ministry and the challenges that are being posed to the friars. The day was concluded with dinner and fraternal recreation.
Day 5: 12th February
The fifth day began with silent prayer at 6.00 followed by Eucharist integrated with Lauds. The Eucharist was presided by friar Angelito A. Cortez OFM. In his homily friar Angelito brought out the common responsibility that we all have towards the mother earth. The earth is the mother of all irrespective of where we are from. Thus friar Angelito brought out that we all need to stand out for the rights of earth and care for it. The Eucharist is followed by breakfast. At 8.30 AM all the participants have gathered for the third talk of AYFG on "Integral Ecology". Friar Angelito presented his talk on ecology and the disasters that occurred on earth due to the irresponsibility of the humans especially from the mighty nations. It was enriching talk because his life is a great witness by his practice and teaching. He is secretary of all the religious in Philippines and apart from it, he is the member of the JPIC under General Curia. His firm opposition on the "Extra judicial killing" in Philippines was so strong that he presented this case in United Nations to let it know to the whole world. (Extra judicial killing means that if a person is caught in Philippines with drug use or sell, he is warned firstly and later if it is repeated, he or she will be shot instantly without any reminder anywhere. This was passed by the President of Philippines). Our friar Angelito presented this case one and half year ago in United Nations after which he had to shut off his communication through mobile or internet the next day due to calls of death threat, criticism of people and comments of people as well as compliments of people. His life of witness for JPIC and the rights of people who are poor and became the victims of extra judicial killing was so much so that he continues to visit the people who lost their beloved ones. This had shaken us so much to awake ourselves from slumber to stand for what is right. Friar Angelito has no guarantee of his life when he is out in Philippines but he goes out to do his ministry regularly guarded by angels of God. After his talk, number of questions being asked by delegates to which he answered. The talk was ended at 12.00 PM after which we had lunch followed by free time up to 2.00 PM. Then in the afternoon, in the name of AYFG 2019, all of us delegates planted around 50 pine trees in the campus and went to the beach to collect plastic on the shore as part of our concern for ecology. Then, we all had great time in swimming followed by some free time. In the evening we gathered for Adoration of the Blessed Sacrament integrated with Vespers and followed by Dinner. At 8.00 PM all the delegates and the organizers gathered for bonfire recreation on the beach which was a time of being together to share the joy of brotherhood.
Day 6: 13th February
The day began early at 6.00 AM directly with breakfast after which we proceeded to SFIC's IP Apostolate-Subic, Zambales which was about 2.30 hours journey. After reaching there we all gathered together and a sister in charge spoke about aeta indigenous people from three mountain regions of Philippines. The children of this tribal people are brought together in order to give education since lack of education their lands are confiscated blindly. Thus, the Franciscan sisters are rendering their service since many years to educate the children and bring up these people. At around 10.30 AM we had cultural programme given by the children of Aeta tribe after which we had Eucharist in Philippini language. Then we had proceeded for lunch and went back to Poggio Bustone Rewnewal Centre, Zambales to conclude the programme of the day. It was a great experience to be with this indigenous people.
Friar Showri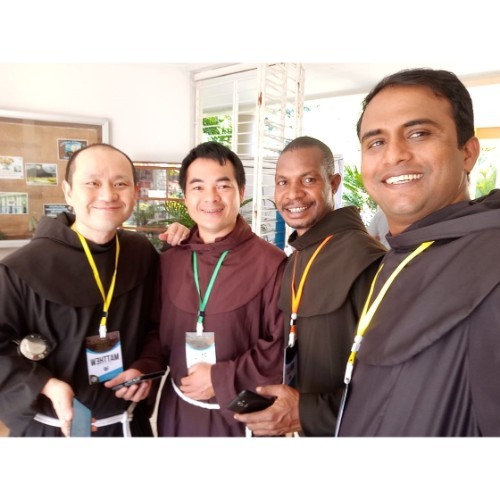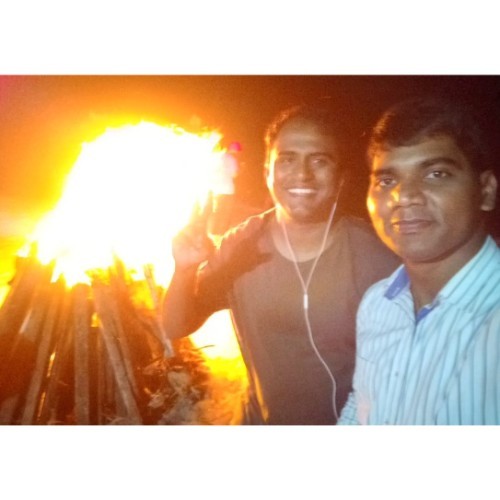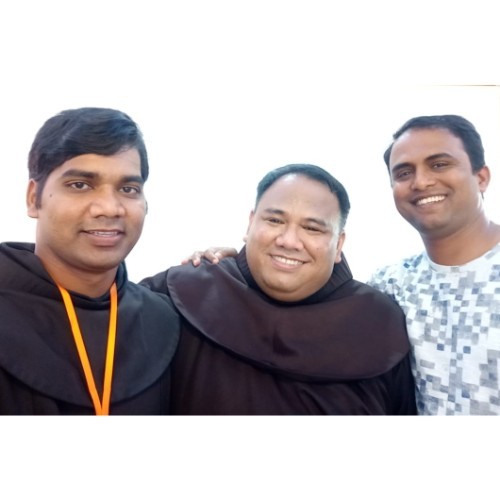 ST. FRANCIS OF ASSISI
ST. FRANCIS
FRIARS' BIRTHDAY (August)
Date

Name of the Friars

Events

Year

01

Richard D' Silva

Balaswamy Gundiga

Entry

Birth

1952

1978

02

Portiuncula

Feast




03

Julius Arul Rayan

Birth

1974

04

+ Bernard Henrietta

Praveen Roshan Toppo

Ravi Bara

Home

Birth

Birth

1981

1982

1995

06

Benedict Gomes

Augustine Tirkey

Birth

Birth

1977

1989

08

+ Marianus Kadasani

T.S.Leo Max

Home

Birth

2004

1995

11

+ Clare of Assisi

+ Sanctes Molenkamp

Feast

Home




1990

14

Jesu Maharaja

Pasala Showri Raju

Birth

Birth

1975

1987

15

Arok Sundar Sebastian

Charles Bernard

Felix Gassam

Francis Kaviyil

Chinnappan M. Devaraj

Amaldas Belevendran

Bobby V.T.

Birth

Solemn Vows

Solemn Vows

Solemn Vows

Solemn Vows

Solemn Vows

Ordination

1951

1990

1990

1992

1992

1992

2000

18

Jamesmon P.C.

Ordination

2001

19

John Chrysostom

Ordination

21

Vijay Amirtharaj A.

Birth

1979

22

Bhaskar Reddy

Birth

1973

23

Stephen Arun S.

Birth

1994

25

King Louis IX

Arun Devasia Nattalil

Akshay Showry Raj

Feast

Birth

Birth




1991

1994

27

Joseph Kishan

Birth

1995

28

Fidelis D' Lima

Birth

1939

30

Arockia Raj R.

Birth

1959

31

+ Christopher Coelho

Home

2007