News & Events
FIRST PROFESSION AND ENTRY TO THE NOVITIATE - 2019
30 & 31 May 2019: Franciscan friars are called to lead a radical life according to the teachings of Christ. This is a life of challenges. St. Louis Friary, Palamaner is known as the "Cradle of Franciscan formation". This is the place that gives birth to new friars. This year 7 novices gave themselves to God for His service and 9 postulants entered the Novitiate.
Novitiate is a paradise where one can experience perfect happiness in Jesus. In order to experience the perfect happiness and peace, through the Franciscan way of life, 9 postulants began their novitiate on the 30th of May 2019. The service began at 6:15 p.m. Br. Praveen Henry D'Souza, the Minister Provincial led the service. During the service, the new novices were given a new habit, a crucifix and the Rule of St. Francis by Br. Charles Arulanandam, the Novice Master. At first blush, we noticed the joy, which was evident on their faces, after wearing the habit. It shows that they have already set their heart to become a Friar Minor. We pray, the way of life that they set about to live, give them joy, happiness and peace in Christ our Lord.
"One who trusts in the Ancient of days will succeed in his life."-says Origen. 31st May 2019 was the day that those who had finished their one year of probation and discernment in the Novitiate gave themselves into the hands of their Lord and Master in complete trust, by making their first profession. The Eucharistic celebration was presided over by Br. Praveen Henry D'Souza. In his homily he urged them to love everyone as the sign of chastity, to make God the final voice that they listen to as the sign of obedience and to renounce everything as the sign of poverty. Soon after the homily, the novices made their vows by placing their hands in the hands of Minister Provincial. Religious and neighbours from nearby were present here on this occasion. We had a sumptuous meal after the service with all the guests.
We thank the Lord for the abundant blessings as we pray for more vocations to the Order. We thank Br Charles A, Br. Samson, and the other friars in the community who strove hard to make the whole event beautiful. We are grateful also to all our aspirants and novices who worked heart and soul to make these days memorable.
Br. Gins Francis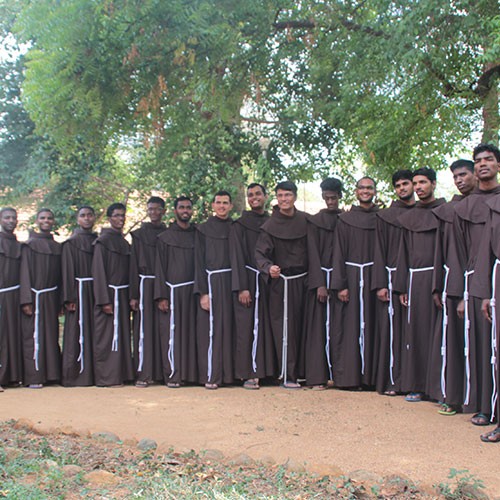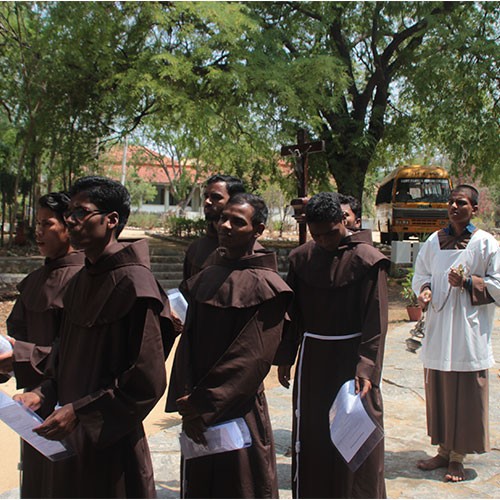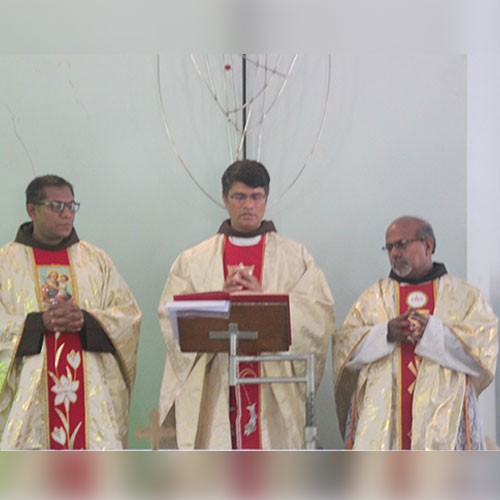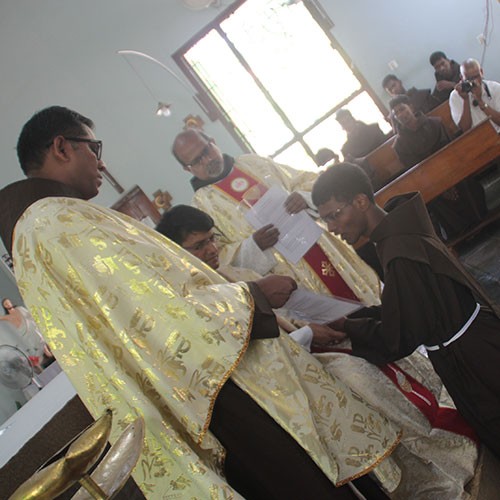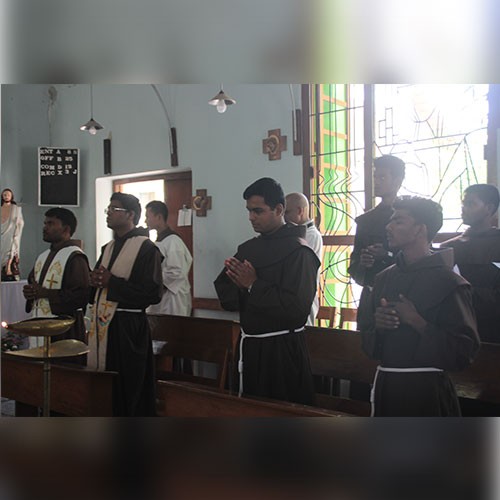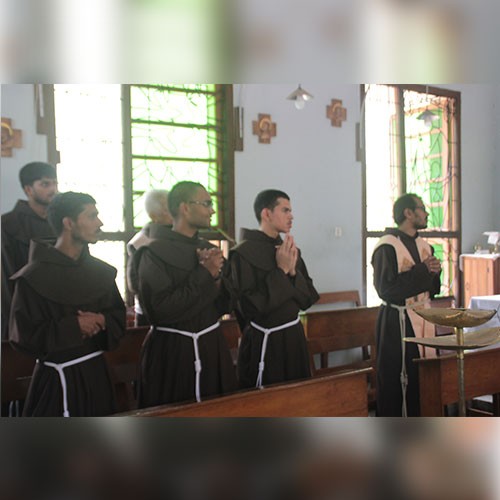 ST. FRANCIS OF ASSISI
ST. FRANCIS
FRIARS' BIRTHDAY (June)
Date

Name of the Friars

Events

Year

01

Jose Palimattom

Vincent Soosai

Fabianus Toppo

Bryan Carneiro

Bhaskar Reddy

Michael Anand

Solemn Vows

Solemn Vows

Entry

Solemn Vows

Solemn Vows Solemn Vows

1996

1996

1999

2002

2002

2002

02

Leos Ekka

Vinoth Robin

+ Denis Boers

Basil Tirkey

Vinod Kujur

Francis Arokiasamy M.

Thumma Ranjith Kumar Reddy

Birth

Birth

Home

Solemn Vows

Solemn Vows

Solemn Vows

Solemn Vows

1963

1985

1997

2013

2013

2013

2013

03

Fabianus Toppo

+ Theodore Caine

Ankit Kumar Baghel

Birth

Home

Birth

1978

1986

1996

04

Dharmodaya Ashram - Bellary

Foundation

1995

06

Alphonse Moras

Birth

1950

07

Sleeva Reddy

Tojy M.

Solemn Vows

Solemn Vows

1998

1998

08

Joy Valooran

Dominic C.J.

Balthazar Pinto

Bala Marneni

Tony D' Souza

Birth

Solemn Vows

Solemn Vows Solemn Vows Solemn Vows

1970

1987

1987

1987

1987

09

Anthony Joseph Archer

Birth

1992

10

Arokia Raj R.

Solemn Vows

1989

11

Jesu Raja A.

Birth

1985

12

Pratap Reddy Salibindla

Balthazar Pinto

Bala Marneni

Tony D'Souza

Arokia Raj R.

Arulsamy A.

Thomas Joseph

Bobby V.T.

Johnny Anthony

Charles Bernard

Felix Gassam

Athanasius Xaxa

Paul Kallan

Leos Ekka

John Chrysostom

Salim Joseph

Francis Kaviyil

Babu Jose Pamplany

James N.

Chinnappan M. Devaraj

Amaldas Belevendran

Entry

Entry

Entry

Entry

Entry

Entry

Entry

Entry

Entry

Entry

Entry

Entry

Entry

Entry

Entry

Entry

Entry

Entry

Entry

Entry

Entry

1981

1981

1981

1981

1982

1982

1982

1982

1983

1984

1984

1985

1985

1985

1985

1985

1985

1985

1985

1985

1986

13

+ Anthony of Padua

Samson A.

Basen Friary

Nanasera Friary

New Church at Sion

Bannur Friary

Feast

Birth

Foundation

Foundation

Blessing

Foundation




1955

1982

1992

1995

1999

14

Francis Arokiasamy M.

Birth

1987

16

Adarsh Y.

Birth

1994

18

Michael Anand

Ordination

2005

19

Dayanand

Dharma L. Bernard

Birth

Birth

1950

1953

20

Tony Marshall

+ Alphaeus Swinkels

Birth

Home

1978

1980

21

Jamesmon P.C.

Birth

1970

22

Arulsamy A.

Arun Junes

Birth

Birth

1961

1978

25

Thomas M.M.

Birth

1949

26

Niraj Kumar Tirkey

Birth

1993

27

Naveen George

Birth

1982

28

Samson

Tommy T.J.

Dominic C.J.

Carlos Dias

Manoj Xalxo

Entry

Entry

Entry

Entry

Birth

1980

1980

1980

1980

1982

30

Amaldas Belevendran

+ Leo Remedios

Birth

Home

1967

1970