News & Events
The New Provincial Definitory
22 November, Peravoor:
In the House of Assisivanam, Peravoor, Kerala on the 20th day of the month of November in the year 2019 , the Friars, 70 in number, assembled as voting Members of the Chapter under the presidency of Br. Praveen Henry D'Souza, Minister Provincial duly elected the Provincial Definitors of the Province of St. Thomas the Apostle, India.
Following Friars were elected as the Provincial Definitors,
Br. Paul Kallan
Br. Baptist D' Souza
Br. Bhaskar
Br. Simon A
Wishes from Br. Michael Perry, the Minister General
Please extend to Bro. Praveen and to all the members of the Definitory of the Province my prayerful greetings and word of encouragement and support as they begin their service to the friars of the Province for the coming three years.
May the Lord bless all of the brothers of the Province.
Peace and all good,
Bro. Michael Perry, OFM
Minister General and Servant
Rome (Chicago)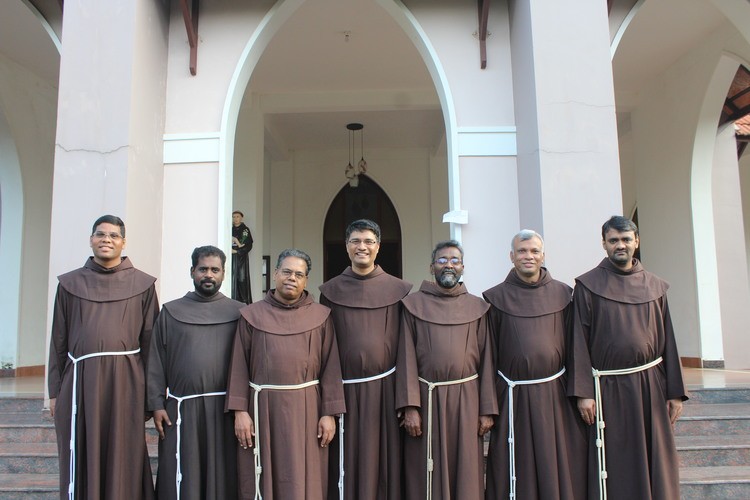 ST. FRANCIS OF ASSISI
ST. FRANCIS
FRIARS' BIRTHDAY (January)
Date

Name of the Friars

Events

Year

03

St.Antonine Morton

Austin Francis

Home

Ordination

1970

2004

04

Sandesh Manuel

St.Rudolph D ' Silva

St. Daniel Sigamony

Birth

Home

Home

1980

2005

2016

06

Thomas M.J.

Carlos Dias

Joseph Stephen M

Shanti Vanam, Raipur

Kurnool Missions

Basil S. Lobo

Birth

Solemn Vows

Birth

Arrival

Foundation

Ordination

1972

1986

1984

1997

2002

2008

07

Christopher (Christy)

Birth

1983

08

St.Ernest Reilly

St.Bernard Silveira

Home

Home

1981

2004

09

St.Anthony Rickards

Francis Arockiasamy

Justin Savio A

Home

Ordination

Birth

1989

2016

1998

10

Francis Xavier

Ordination

2004

11

Jerome Kispotta

Birth

1961

12

Nicholas D' Souza

St.Gerwin van Leeuwen

Ordination

Home

1973

2002

13

Praveen Roshan Toppo

Ordination

2015

15

Francis Kaviyil

St.Francis Serrao

Phyrnai Lyngdoh

Birth

Home

Ordination

1966

1990

2017

16

Prashanth Wilson Fernandes

Jeddu Praveen Chinna Reddy

Joseph Prasanna Kumar

Birth

Ordination

Ordination

1984

2015

2015

17

Nesakkaram – Chennai

Basil Tirkey

Foundation

Ordination

1991

2016

18

Felix Gassam

Felix Vijay

Ejekial Lakra

Birth

Ordination

Birth

1965

2015

1995

19

Albinus Ekka

Birth

1993

20

Tomy Palackal

Ordination

2011

21

Parish at Malom-Noatoli

Erection

1996

22

Prem Kumar D' Souza

Nathaniel Tirkey

Prem Kumar D' Souza

Birth

Birth

Ordination

1982

1988

2013

23

St.Peter D' Souza

Eugene A.

Home

Ordination

1991

2015

24

Tomy Palackal

Arun Junes A.

Kulandaisamy M.

Christopher (Christy)

S.Vows

S.Vows

S.Vows

Ordination

2004

2004

2004

2015

25

Dominic C.J.

Jayapal Dwarakonda

Ordination

Ordination

1992

2013

26

Assisi Sadan - Umred

Blessing

1996

27

Chinnappan M. Devaraj

St.Dunstan Rickards

Roshan Lobo

Shaju Paliyathil

Shaju Paliyathil

Birth

Home

Birth

S.Vows

Ordination

1967

1940

1992

2002

2004

28

TrevorD ' Souza

Birth

1960

29

Christopher (Christy)

Thomas Kiren A.

Anthony Roobandass A.

Solemn Vows

Birth

Ordination

2013

1993

2011

30

Bryan Carneiro

Ordination

2013

31

Scaria Varanath

Jeddu Praveen Chinna Reddy

Birth

Birth

1949

1985
Date

Name of the Friars

Events

Year

03

+ Antonine Morton

Austin Francis

Home

Ordination

1970

2004

04

Sandesh Manuel

+ Rudolph D ' Silva

+ Daniel Sigamony

Birth

Home

Home

1980

2005

2016

06

Thomas M.J.

Carlos Dias

Joseph Stephen M

Shanti Vanam, Raipur

Kurnool Missions

Basil S. Lobo

Birth

Solemn Vows

Birth

Arrival

Foundation

Ordination

1972

1986

1984

1997

2002

2008

07

Christopher (Christy)

Birth

1983

08

+ Ernest Reilly

+ Bernard Silveira

Home

Home

1981

2004

09

+ Anthony Rickards

Francis Arockiasamy

Justin Savio A

Home

Ordination

Birth

1989

2016

1998

10

Francis Xavier

Ordination

2004

11

Jerome Kispotta

Birth

1961

12

Nicholas D' Souza

+ Gerwin van Leeuwen

Ordination

Home

1973

2002

13

Praveen Roshan Toppo

Ordination

2015

15

Francis Kaviyil

+ Francis Serrao

Phyrnai Lyngdoh

Birth

Home

Ordination

1966

1990

2017

16

Prashanth Wilson Fernandes

Jeddu Praveen Chinna Reddy

Joseph Prasanna Kumar

Birth

Ordination

Ordination

1984

2015

2015

17

Nesakkaram – Chennai

Basil Tirkey

Foundation

Ordination

1991

2016

18

Felix Gassam

Felix Vijay

Ejekial Lakra

Birth

Ordination

Birth

1965

2015

1995

19

Albinus Ekka

Birth

1993

20

Tomy Palackal

Ordination

2011

21

Parish at Malom-Noatoli

Erection

1996

22

Prem Kumar D' Souza

Nathaniel Tirkey

Prem Kumar D' Souza

Birth

Birth

Ordination

1982

1988

2013

23

+ Peter D' Souza

Eugene A.

Home

Ordination

1991

2015

24

Tomy Palackal

Arun Junes A.

Kulandaisamy M.

Christopher (Christy)

S.Vows

S.Vows

S.Vows

Ordination

2004

2004

2004

2015

25

Dominic C.J.

Jayapal Dwarakonda

Ordination

Ordination

1992

2013

26

Assisi Sadan - Umred

Blessing

1996

27

Chinnappan M. Devaraj

+ Dunstan Rickards

Roshan Lobo

Shaju Paliyathil

Shaju Paliyathil

Birth

Home

Birth

S.Vows

Ordination

1967

1940

1992

2002

2004

28

TrevorD ' Souza

Birth

1960

29

Christopher (Christy)

Thomas Kiren A.

Anthony Roobandass A.

Solemn Vows

Birth

Ordination

2013

1993

2011

30

Bryan Carneiro

Ordination

2013

31

Scaria Varanath

Jeddu Praveen Chinna Reddy

Birth

Birth

1949

1985