News & Events
Covid-19 Relief Work in Shalom Friary, Hyderabad
The community of Shalom Friary helps the stranded Migrant workers, the daily wage earners, local poor found on the road police personnel on duty in the area of our community, and the poor families in our parish area by giving food to people daily and distributing Rice and Dhal to some needy families. We could reach out the needy with the help of the Catechist Sisters, few school employees, parishioners and some Christians and non-Christians of the neighbourhood. The work began since 3rd April. We have been preparing 200 food packets and distributing to the needy every day.
We are able to distribute a good amount of Rice, Dhal and oil to around 600 needy families of our Parish area, both Christians and non-Christians. Our service has roused the goodness in the heart of our neighbours (even non-Christians) as evidenced by their willingness to volunteer their service or make small donations in kind or cash.
Besides providing food, the Friars gather for an hour of Adoration every day during which we give thanks to the Lord for all the goodness and breaking of barriers that we are seeing in this neighbourhood. As several parts of our Parish area now fall in the Red Zone and movements of people are restricted, the help we are able to give (thanks to our Benefactors) is much appreciated. May God be the reward for us and our Benefactors.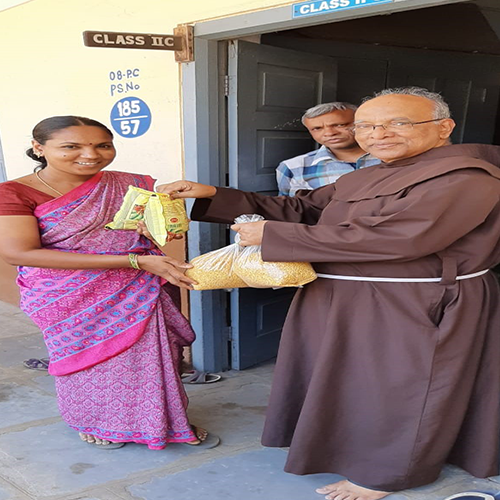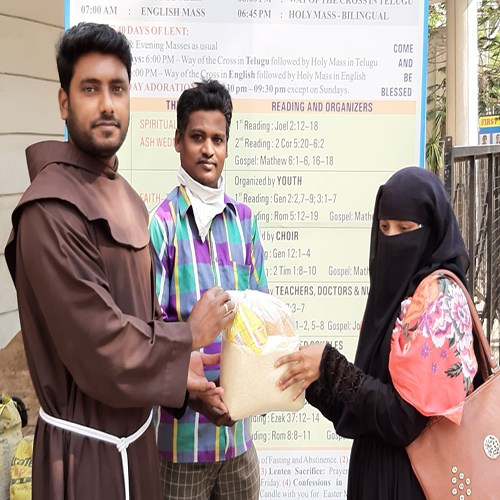 ST. FRANCIS OF ASSISI
ST. FRANCIS
FRIARS' BIRTHDAY (January)
Date

Name of the Friars

Events

Year

03

St.Antonine Morton

Austin Francis

Home

Ordination

1970

2004

04

Sandesh Manuel

St.Rudolph D ' Silva

St. Daniel Sigamony

Birth

Home

Home

1980

2005

2016

06

Thomas M.J.

Carlos Dias

Joseph Stephen M

Shanti Vanam, Raipur

Kurnool Missions

Basil S. Lobo

Birth

Solemn Vows

Birth

Arrival

Foundation

Ordination

1972

1986

1984

1997

2002

2008

07

Christopher (Christy)

Birth

1983

08

St.Ernest Reilly

St.Bernard Silveira

Home

Home

1981

2004

09

St.Anthony Rickards

Francis Arockiasamy

Justin Savio A

Home

Ordination

Birth

1989

2016

1998

10

Francis Xavier

Ordination

2004

11

Jerome Kispotta

Birth

1961

12

Nicholas D' Souza

St.Gerwin van Leeuwen

Ordination

Home

1973

2002

13

Praveen Roshan Toppo

Ordination

2015

15

Francis Kaviyil

St.Francis Serrao

Phyrnai Lyngdoh

Birth

Home

Ordination

1966

1990

2017

16

Prashanth Wilson Fernandes

Jeddu Praveen Chinna Reddy

Joseph Prasanna Kumar

Birth

Ordination

Ordination

1984

2015

2015

17

Nesakkaram – Chennai

Basil Tirkey

Foundation

Ordination

1991

2016

18

Felix Gassam

Felix Vijay

Ejekial Lakra

Birth

Ordination

Birth

1965

2015

1995

19

Albinus Ekka

Birth

1993

20

Tomy Palackal

Ordination

2011

21

Parish at Malom-Noatoli

Erection

1996

22

Prem Kumar D' Souza

Nathaniel Tirkey

Prem Kumar D' Souza

Birth

Birth

Ordination

1982

1988

2013

23

St.Peter D' Souza

Eugene A.

Home

Ordination

1991

2015

24

Tomy Palackal

Arun Junes A.

Kulandaisamy M.

Christopher (Christy)

S.Vows

S.Vows

S.Vows

Ordination

2004

2004

2004

2015

25

Dominic C.J.

Jayapal Dwarakonda

Ordination

Ordination

1992

2013

26

Assisi Sadan - Umred

Blessing

1996

27

Chinnappan M. Devaraj

St.Dunstan Rickards

Roshan Lobo

Shaju Paliyathil

Shaju Paliyathil

Birth

Home

Birth

S.Vows

Ordination

1967

1940

1992

2002

2004

28

TrevorD ' Souza

Birth

1960

29

Christopher (Christy)

Thomas Kiren A.

Anthony Roobandass A.

Solemn Vows

Birth

Ordination

2013

1993

2011

30

Bryan Carneiro

Ordination

2013

31

Scaria Varanath

Jeddu Praveen Chinna Reddy

Birth

Birth

1949

1985
Date

Name of the Friars

Events

Year

03

+ Antonine Morton

Austin Francis

Home

Ordination

1970

2004

04

Sandesh Manuel

+ Rudolph D ' Silva

+ Daniel Sigamony

Birth

Home

Home

1980

2005

2016

06

Thomas M.J.

Carlos Dias

Joseph Stephen M

Shanti Vanam, Raipur

Kurnool Missions

Basil S. Lobo

Birth

Solemn Vows

Birth

Arrival

Foundation

Ordination

1972

1986

1984

1997

2002

2008

07

Christopher (Christy)

Birth

1983

08

+ Ernest Reilly

+ Bernard Silveira

Home

Home

1981

2004

09

+ Anthony Rickards

Francis Arockiasamy

Justin Savio A

Home

Ordination

Birth

1989

2016

1998

10

Francis Xavier

Ordination

2004

11

Jerome Kispotta

Birth

1961

12

Nicholas D' Souza

+ Gerwin van Leeuwen

Ordination

Home

1973

2002

13

Praveen Roshan Toppo

Ordination

2015

15

Francis Kaviyil

+ Francis Serrao

Phyrnai Lyngdoh

Birth

Home

Ordination

1966

1990

2017

16

Prashanth Wilson Fernandes

Jeddu Praveen Chinna Reddy

Joseph Prasanna Kumar

Birth

Ordination

Ordination

1984

2015

2015

17

Nesakkaram – Chennai

Basil Tirkey

Foundation

Ordination

1991

2016

18

Felix Gassam

Felix Vijay

Ejekial Lakra

Birth

Ordination

Birth

1965

2015

1995

19

Albinus Ekka

Birth

1993

20

Tomy Palackal

Ordination

2011

21

Parish at Malom-Noatoli

Erection

1996

22

Prem Kumar D' Souza

Nathaniel Tirkey

Prem Kumar D' Souza

Birth

Birth

Ordination

1982

1988

2013

23

+ Peter D' Souza

Eugene A.

Home

Ordination

1991

2015

24

Tomy Palackal

Arun Junes A.

Kulandaisamy M.

Christopher (Christy)

S.Vows

S.Vows

S.Vows

Ordination

2004

2004

2004

2015

25

Dominic C.J.

Jayapal Dwarakonda

Ordination

Ordination

1992

2013

26

Assisi Sadan - Umred

Blessing

1996

27

Chinnappan M. Devaraj

+ Dunstan Rickards

Roshan Lobo

Shaju Paliyathil

Shaju Paliyathil

Birth

Home

Birth

S.Vows

Ordination

1967

1940

1992

2002

2004

28

TrevorD ' Souza

Birth

1960

29

Christopher (Christy)

Thomas Kiren A.

Anthony Roobandass A.

Solemn Vows

Birth

Ordination

2013

1993

2011

30

Bryan Carneiro

Ordination

2013

31

Scaria Varanath

Jeddu Praveen Chinna Reddy

Birth

Birth

1949

1985