News & Events
The Lord Gave Me Brothers!
Br. Ankit Baghel
The solemn profession of our two brothers Albinus Ekka and Avinash Kujur was held in St. Francis Friary Basen, Chhattisgarh. Around 20 friars, some Parishioners and the family members of both the brothers were present for the celebration of the solemn profession. The celebration started with the Holy Mass at 7:00 am. The main celebrant was Father Leos Ekka. Fr. Anil Xalxo delivered a beautiful homily on the religious life; he said that the religious life is a living sacrifice to God and to humanity. Soon after the homily Br. Albinus Ekka and Br. Avinash Kujur made their vows in the hands of Fr. Tony D'Souza, the Custos of Mary Mother of God. After the celebration of the holy Eucharist, there was a felicitation for the newly professed friars, followed by a fellowship meal. I thank and appreciate the Basen community for making all the possible arrangements for all of us present.
It was the first time that I attended the solemn profession of our brothers. As a friar minor, it has taught me a lesson that in life even the small celebrations are part of a bigger celebration of life because life itself is a gift from God. Life is not our property and therefore, it must be celebrated well. Celebrations are always associated with the fullness of life which come from God himself.
ST. FRANCIS OF ASSISI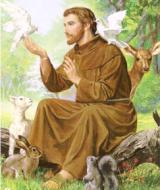 ST. FRANCIS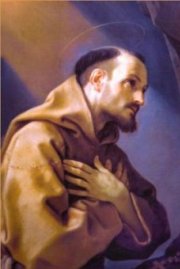 FRIARS' BIRTHDAY (October)
Date

Name of the Friars

Events

Year

04

St.Francis of Assisi

Robin Lakra

Pratap Reddy Salibindla

Arulsamy A.

Thomas Joseph

Bobby V.T.

Johnny Anthony

Athanasius Xaxa

Leos Ekka

Solemnity

Birth

Solemn Vows

Solemn Vows

Solemn Vows

Solemn Vows

Solemn Vows

Solemn Vows

Solemn Vows




1974

1988

1988

1988

1988

1989

1991

1991

06

Salim Joseph

Babu Jose Pamplany

James N.

Trevor D' Souza

Malom - Noatoli

+ George Muthaiah

Solemn Vows

Solemn Vows

Solemn Vows

Solemn Vows

Arrival

Home

1991

1991

1991

1991

1995

2002

08

North Guwahati

Salvador D' Souza

Arrival

Ordination

1999

2011

10

+ Gerald D' Souza

Home

2013

14

+ Bosco Jayaraj

Tony D' Souza

Home

Ordination

1970

1990

15

Joy Sebastian

Prasad Rao K.

Birth

Birth

1972

1990

19

Provincialate

Marius Dahanga

Blessing

Birth

1998

1992

21

+ Basil Devasagayam

Arockiasamy P.

Eliyas Reddy

Home

Birth

Birth

1965

1970

1995

26

Gerald Lobo

Birth

1951

27

+ Paschal Lobo

Jose Palimattom

Benjamin Jojo

Anil Xalxo

Thumma Ranjith Kumar Reddy

Home

Birth

Birth

Birth

Birth

1956

1967

1975

1979

1988

28

Teiborlang Wartde

Birth

1987

30

Austin Francis

Birth

1972

30

Punitha Anthoniar Illam - Madurai

Blessing

1994

31

Manish Ekka

Birth

1993